| | |
| --- | --- |
| Product Development | |
---
Time does not stand still for busy schedules! Since the beginning of time, mothers have sought to protect their infants from the elements. This protection has progressed from animal skins to infant shawls (as shown in the 1897 Sears, Roebuck Catalogue) to the use of receiving blankets and anything else that could be substituted on a rainy day. The natural position is for the baby to be held against the mother's shoulder with its head and torso covered and with its buttock supported by ones of her arms.




The Rainy Day BabyTM water repellent blanket design makes use of this same position. Through observation over the years and being the mother of three children and now a grandmother, I still see the same need for rainwear for active infants and toddlers.




When you live in a hot, humid climate as I do, the need for extra blankets or bunting on a rainy day is absurd. They tend to mildew and smell when left in the car and are not the ideal answer. They are forgotten items at church, doctor's office or daycare.




The Rainy Day BabyTM water repellent blanket is quick and convenient. It refolds to fit in its own pouch and fits in small diaper bags and purses.
It is as easy as one, two, three!!!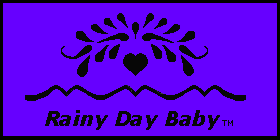 ---